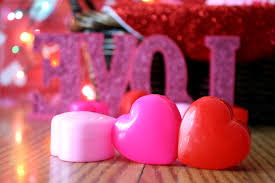 Get your sweet tooth ready because Valentine's Day is quickly approaching! Here are some deals you can get, as well as some limited edition items.
Valentines Deals:
1. Auntie Anne's
You can purchase heart-shaped original and cinnamon sugar pretzels on February 14th during their buy one, get one free special. Visit their site on Feb. 11 to claim the offer.
2. Denny's
Rewards members get 20% off their meal, in-store only, from February 12 to 18.
3. Hungry Howies
From February 11 to 14, customers will be able to purchase a heart-shaped pizza with any topping for just $6.99 using the promo code "HEART1."
4. Mrs. Fields
Twenty percent off Valentine's Day cakes from February 1 through February 7 with code "HEART" on their website.
For more information on any of these deals, check out this People Article.
Valentines Limited Edition Items:
1. Dairy Queen
The Dipped Strawberry Blizzard is a fusion of vanilla soft serve, Ghirardelli chocolate, and real strawberry topping. The second dessert is a mini, heart-shaped Dipped Strawberry Cupid Cake, which features vanilla ice cream, chocolate chunks, and a strawberry topping.
For more info, check out this Business Insider Article.
2. Krispy Kreme Conversation Donuts-
The heart-shaped doughnuts are designed to look like the iconic Necco candies, and will feature a dozen phrases printed on top of them, including "DM Me," "So Extra" and "Be Mine."
For more info, check out this People Article.
3.Dunkin Donuts-
Dunkin' introduced new Bling Sprinkles Donuts and its first donut featuring two favorite fillings for Valentine's Day. They are also bringing back heart-shaped donuts.
For more info, check out this Dunkin Article.