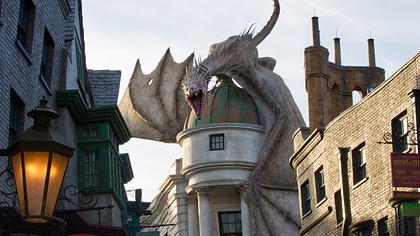 Universal Orlando has revealed more details on their upcoming Harry Potter roller coaster.
The roller coaster is called Hagrid's Magical Creatures Motorbike Adventure. Visitors will be taken to Hagrid's Care For Magical Creatures class, board an enchanted motorbike, then travel through the Forbidden Forest at speeds up to 50 mph forwards and backwards.
During the ride, you'll meet Hagrid's three headed dog Fluffy, centaurs, Cornish pixies, and a mystery creature not even found in the movies.
The new ride opens on June 13th in Islands of Adventure.
For more info, read the Orlando Sentinel's article.