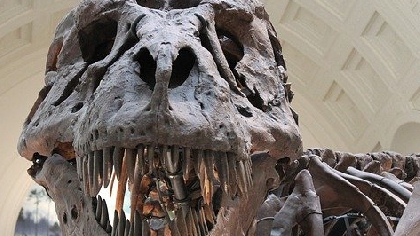 (Image by Jill White from Pixabay)
Canadian researchers have discovered a new species of tyrannosaur that they've dubbed the 'Reaper of Death.'
The dino's official scientific name is Thanatotheristes degrootorum.
Skull fragments from the predator were found by a farmer and paleontology enthusiast, but the professionals found the new and unique features. One of the distinguishable features are the vertical ridges found along the upper jaw.
Introducing the first new species of tyrannosaur discovered in Canada in 50 years. Meet Thanatotheristes degrootorum, the 'reaper of death'! Read all about it on our blog: https://t.co/hIQZkxdACk #Thanatotheristes #ReaperOfDeath #RTMPResearch pic.twitter.com/WYNmsMuUFY

— Royal Tyrrell Museum of Palaeontology (@RoyalTyrrell) February 10, 2020
The Reaper of Death roamed North America 80 million years ago.
For more info, read IGN's article.