DJs Unite for LifeSouth Blood Drive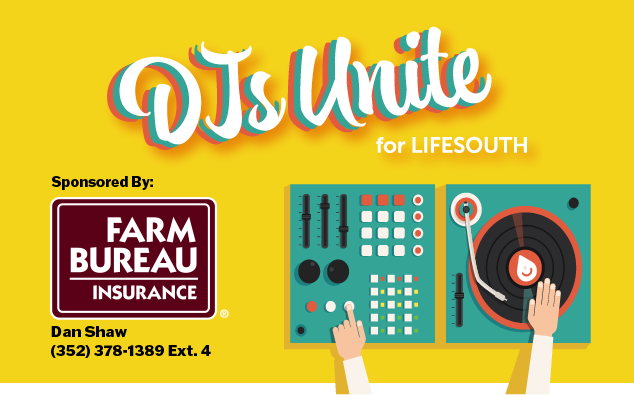 Local Radio DJs Unite to Support LifeSouth
LifeSouth invites the community to join their favorite DJs from I Am Country, Magic 101.3, the Buzz and more as they encourage people to donate blood at the DJs Unite for LifeSouth event on Saturday, June 10th. The blood drive will take place between 10 a.m. and 2 p.m. at LifeSouth's Newberry Road donor center, located at 4039 Newberry Road in Gainesville.
Stop by for a chance to win multiple prizes, including:
A three-day, two-night stay at the Residence Inn in Clearwater

4 tickets to the Kennedy Space Center

4 tickets to the St Augustine Alligator Farm and Zoological Park

4 tickets to Jungle Adventures in Christmas, FL

2 tickets to the Butterfly Rain Forest

4 tickets to the Orlando Science Museum

2 Tickets to Wonder Works in Orlando

4 tickets to the Clearwater Marine Aquarium
Give local, save local. This is LifeSouth's motto, and it means that the blood donated in Gainesville and surrounding areas stays in the local community to help your neighbors in need. LifeSouth has been a vital part of the Gainesville community since opening at the request of local hospitals in 1974. We are the sole provider of blood to all Gainesville hospitals, including UF Health, North Florida Regional Medical Center and the Malcom Randall VA Medical Center.
All donors will receive a recognition t-shirt and a complimentary cholesterol screening. Blood donors must be at least 17 (16 with parental permission), weigh at least 110 pounds and be in good health. A photo ID is also required. For more information on donating blood or to schedule an appointment to donate, call toll-free 888-795-2707 or visit lifesouth.org.
Sponsored By: