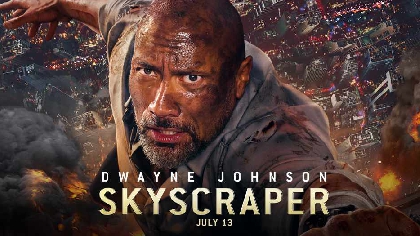 (Photo by Legendary/ Universal Studios)
Reviews for Dwayne "The Rock" Johnson's latest film Skyscraper are out, and they're mixed. Most critics say that the film is stupid, illogical fun, but that the filmmakers clearly intended it to be that way. They're also saying that Johnson's likeability pretty much held the film together.
The film currently has a 59% critics score on Rotten Tomatoes.
Here's some opinions of Skyscraper!
John DeFore of Hollywood Reporter
says,"Skyscraper is one of the most idiotic action movies to come down the pike in some time. It's also a lot of fun if you're willing to go with it..."
From Peter Debruge of Variety
: "This is escapism, pure and simple, and though the structure is rickety, by enlisting Johnson, Thurber ensures that his "Skyscraper" is built on solid Rock."
Finally, Molly Freeman from Screenrant
say, "Skyscraper is a serviceable action vehicle for a charming Dwayne Johnson, but even he can't save it from repetitive set pieces and a stale story."